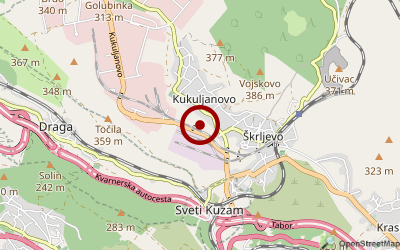 Geopend van - geopend tot: 01.Mai bis 30.September
Vergelijkende prijs: 26,00 Euro ( Preis pro Übernachtung für PKW, Wohnwagen und 2 Erwachsene und ein Kind in der Hauptsaison inkl. Nebenkosten )
Oproepen (afgelopen 30 dagen): 32
Beschrijving:
Camp Kozica is located on the Adriatic Highway in the picturesque bay of the same name, 5 km away from Klenovica in the direction of Senj.
Since the camp is isolated, within pure nature, it is an ideal place for those seeking some peace and a relaxing atmosphere. Also, it is very interesting for those who prefer the Robinson-type tourism.
Occupying area of around 7 ha (18 acres) and offering the capacity for some 800 guests, the camp provides accommodation for guests who come on holiday with tents and camper vehicles. All camping sites are provided with an access to electricity, while water supply is possible within the sanitary block that meets the basic needs of our guests; there are shower cabins, toilette cabinets, sinks.
Within the camp, a supermarket, an exchange office and an à-la-carte restaurant are at our guests' disposal..
A natural rocky and pebbly beach provides our guests with an ideal place to enjoy the sun and swimming in very clean seawater, while hiking trails (like the Trail of Degenija, 10 km in length) on the nearby Velebit massive lure for hiking tours and photo hunting.
The camp is in such a location that it represents the ideal starting point for visiting the national parks of the North Velebit, Risnjak, the Plitvice Lakes, Paklenica and the islands of Krk and Rab.
Thanks to the nearby highway (junction Žuta lokva, 30 km away), there is a possibility of fast and smooth arrival to and departure from our camp.
Welcome!

Omgeving:
Promo: www.youtube.com/watch?v=KcPeVLHRnKA
Aankomst:
http://www.camp-kozica.com/enlokacija.htm
Afmetingen
Oppervlakte: 7 ha brutto
Aantal plaatsen: 175