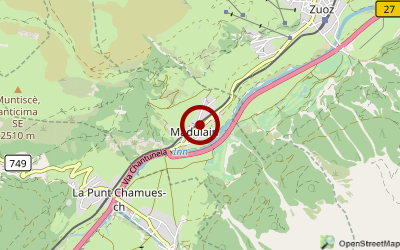 Geopend van - geopend tot: 01.Januar bis 01.Januar
Oproepen (afgelopen 30 dagen): 33
Beschrijving:
Madulain, a small, quiet village situated between Zuoz and La Punt in the Upper
Engadine, offers everything necessary for a restful vacation, far away from the
crowds and the hectic everyday life. Those who have already stayed in Madulain
appreciate the benefits of being able to stay in a peaceful, picturesque place yet at
the same time enjoy the many events that are going on in the Engadine region.
Guests can go on mountain hikes, observe wild animals in the nearby Swiss
National Park, carry out all kinds of sports including mountain biking, undertake
excursions in the neighboring regions, participate in cultural events, discover the
culinary variety the region has to offer, or just let them go by the sweetness of not
doing anything! All of the winter sport facilities for skiing or snowboarding can be
comfortably reached by Rhaetian Railway, by bus or by car. The cross-country ski
trails, the toboggan run and the natural open-air ice-skating rink are all nearby.
The campsite is well equipped, has a friendly ambiance and is situated just beside
the small train station on a terrace with plenty of sunshine. Our well maintained
campground has modern sanitary installations, including under-floor heating and
washing and drying facilities. The campground is equipped with: 10 Amps.
electricity sockets (CEE/blue) on the whole campground, a community BBQ place
(including in winter) and a waste discharge point. A wireless internet access
(WI-FI) is at disposition, free for our guests. Caravans and converted wine barrels
as sleeping quarters are available for rent.
We look forward to your visit!
Omgeving:
Camping Madulain, friendly and centrally located in the middle of the village, only a few steps from the train and bus stations, placed on a wonderfully inviting sun terrace, with its modern infrastructure it leaves no wishes open, to enjoy charming holidays or a relaxing short stay. PODHouses and livable wine barrels for rent! We look forward to your visit! Additional Features: Community BBQ area, Bistro, PODHouses and livable wine barrels, WI-FI included!
Aankomst:
Madulain find it's self between Zernez and St. Moritz, in the upper Engadine / Graubunden. Our campground is situated right in the village.
Afmetingen
Oppervlakte: ? ha brutto
Aantal plaatsen: 40