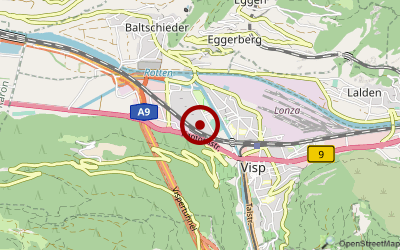 Geopend van - geopend tot: 03.April bis 01.November
Vergelijkende prijs: 37,00 Euro ( Preis pro Übernachtung für PKW, Wohnwagen und 2 Erwachsene und ein Kind in der Hauptsaison inkl. Nebenkosten )
Oproepen (afgelopen 30 dagen): 31
Beschrijving:
The peacefully situated Mühleye Camping, conceived with beautiful trees, is just 10 minutes from the centre and train station of the beautiful town of Visp.
New, modern facilities to meet all your needs. Quick Stop for large RVs, beautiful campground.
Luxurious plots with electricity, water, etc.

Omgeving:
In a prime central location in the Upper Valais, we are an ideal starting point for the holiday regions: Zermatt, Saas Valley, Augstbord, Loetschen Valley, Bern, Aletsch, Simplon and the Lower Valais.
Afmetingen
Oppervlakte: ? ha brutto
Aantal plaatsen: 190


Jetzt Informationsmaterial downloaden