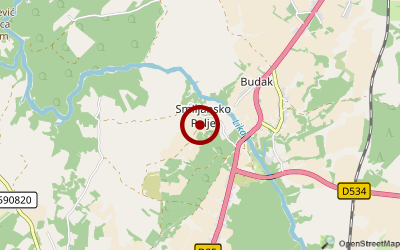 Geopend van - geopend tot: 30.April bis 01.Oktober
Oproepen (afgelopen 30 dagen): 28
Beschrijving:
Camp "Turist" is located in Grabovac at the entrance to the natural oasis of Plitvice Lakes. The camp spreads on 40,000 sqm and has 75 accommodation units surrounded with green areas and conifer wood vegetation, which assure cooling shades during summer and create a special atmosphere in winter.

Every place in camp is provided with electricity, and refrigeratos boxes for storing food.

Within the camp there is a modern, newly renovated sanitary facilities adjusted for disabled persons. The guests can also use the restaurant, reception desk, exchange office, ATM, a market. Additionally there are a gas filling station and a mechanic service nearby.

Its geographical position between mediterranean and continental climate, microclimate diversity creates in the area a warm and sunny summer and relatively long, cold and snowy winter.

The camp was founded in 1968, since then it has been offering its many visitors accommodation in camp and rooms in three guest houses, as well as a restaurant with a long tradition.

Apart from accommodation and restaurants, Turist camp Grabovac offers its guests beautiful nature and a variety of facilities, in order to make your stay not only comfortable, but also diverse.
Omgeving:
At around 8 km form the camp "Turist", you can find "NP Plitvicka jezera". The park consists of a series of 16 crystal blue-green lakes. Due to their unique beauty, they were declared as world heritage in 1979 and are under UNESCO protection. Also close to the camp you can find the eco-ethno village Rastoke which was created as a natural phenomenon made by green-blue river flow of Slunjcica over travertine barriers joining the mouth of river Korana. (Since 1969, Rastoke has been declared as a historical and cultural monument). Three of the four explored Barac caves, (8km) are adorned with very rare dripstones, and bridges formed by stalactites and stalagmites. After 111 years the caves have reopened their doors to visitors.
Aankomst:
Follow the street 1/E71 (Karlovac - Plitvice). The entrance of the camp is situated at the street.
Afmetingen
Oppervlakte: 40 ha brutto
Aantal plaatsen: ?