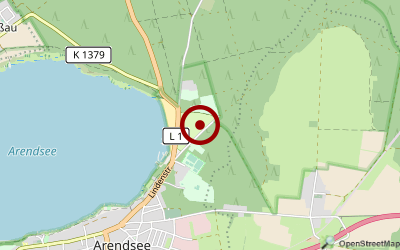 Geopend van - geopend tot: 15.April bis 04.Oktober
Oproepen (afgelopen 30 dagen): 101
Beschrijving:
In the midst of a pine and birch forest in the immediate vicinity of the Arendsee, our campsite invites you to spend a relaxing holiday. Our campsite has a total of about 320 permanent campsites and spacious wooded areas for about 150 tourist campers.
service:
Gas bottle exchange,
Distribution of rubbish bags and "yellow bags" per tent,
Power connection,
Recycling depot with waste separation,
Disposal facilities for chemical toilets,
SAT - connection for 20 sites (without reciver provision),
Emergency telephone on the campsite
Night surveillance of the campsite and the lido from 22.00 - 7.00 hrs during the summer holidays in Saxony-Anhalt,
Guest parking lot,
Sanitary facilities:
modern sanitary tract with washrooms, single wash cabins, shower cabins, also cold showers, toilets, toilets suitable for disabled persons
Kitchen, laundry,
3 washing machines, 3 dryers (use is subject to tokens, available at the reception)
separate baby changing room with washing facilities

We try to offer our guests, young and old, a varied holiday with a high fun factor, which is what you will find on the campsite:
a large children's playground with lots of space (sandpits, climbing frames, seesaws), beach volleyball field, table tennis, bicycle rental, outdoor chess
Directly at the campsite you will find our lido with beautiful sandy beaches and spacious sunbathing areas, water playgrounds, a 72 m water slide, a designated nudist area, modern sanitary facilities, catering.
A camping cinema is only a few minutes' walk away.

In our camping mini-market you can buy daily fresh bread rolls, a wide range of drinks and everything a camper needs during his stay without leaving the campsite. Breakfast can also be prepared for you on request.

Numerous grill islands are at your free disposal.
Visit also our "Waldcampklause" with barbecue area.

Omgeving:
Welcome to Arendsee - the pearl of the Altmark. Located directly at the lake, the town of Arendsee and its surroundings have retained their charm and beauty in largely untouched nature. The Arendsee offers ideal conditions for various water sports: sailing, surfing, swimming, diving, fishing, boat trips. Charming cycle and hiking paths along the shore of the Arendsee, as well as in the near and far surroundings, make the hearts of nature lovers beat faster. The historically rich area of the Altmark, with its Romanesque brick churches, mills and romantic old towns, offers you numerous interesting destinations.
Afmetingen
Oppervlakte: 8 ha brutto
Aantal plaatsen: 150