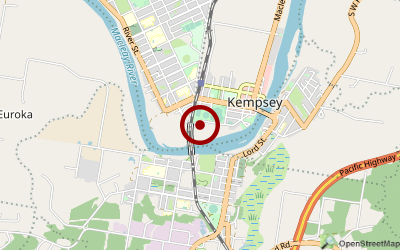 Geopend van - geopend tot: 01.Januar bis 01.Januar
Vergelijkende prijs: 30,00 Euro ( Preis pro Übernachtung für PKW, Wohnwagen und 2 Erwachsene und ein Kind in der Hauptsaison inkl. Nebenkosten )
Oproepen (afgelopen 30 dagen): 11
Beschrijving:

We offer affordable & comfortable air-conditioned ensuite cabins, onsite caravans, drive thru ensuite sites, drive thru powered and unpowered sites. Plenty of room for camping! We can cater for 5th Wheelers, RVs, Buses, & large vans, you are all welcome. We also have a 20 bed group accommodation available for large groups. We are also Pet friendly.
Omgeving:
Our park is spread out over 32 level grassy acres; we have a salt water chlorinated pool, a small onsite shop, laundry facilities and 2 BBQ areas. Across the road is an 18 hole golf course, we are only 3 minutes from Town and 15 minutes from the famous Crescent Head Beach. Smack bang in the middle of the Macleay Valley we are surrounded by such iconic coastal areas such as South West Rocks, you can disappear into nature at the Hat Head National Park or step back in time at the Trial Bay Gaol.
Aankomst:
We are 3klms on the South side of Kempsey, opposite the golf course entrance. Look for the big orange smiley face.
Afmetingen
Oppervlakte: ? ha brutto
Aantal plaatsen: 40


Jetzt Informationsmaterial downloaden