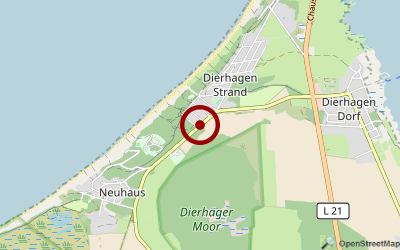 Geopend van - geopend tot: 15.März bis 31.Oktober
Vergelijkende prijs: 46,00 Euro ( Preis pro Übernachtung für PKW, Wohnwagen und 2 Erwachsene und ein Kind in der Hauptsaison inkl. Nebenkosten )
Oproepen (afgelopen 30 dagen): 83
Beschrijving:
The OstseeCamp is situated in a natural, cultivated and quiet area. The beautiful beach is only 500m away and can be achieved by a footpath through the bordering pinewood.

The grassland of 65,000 m² provides separated campsites with a dimension of 50m² up to 125m². The campsites are in best condition and partly covered with bushes and trees.
Every guest shall find his own territory to feel comfortable. We offer you a calm and relaxed open-air holiday.
Omgeving:
The OstseeCamp Dierhagen is located at the unique peninsula of Fischland-Darß-Zingst and is a cultivated natural area next to the beach. Here you can pass nature related holidays like campers wish to have. The Baltic seaside resort Dierhagen is the gate to a inimitable and beautiful region which is characterized by the Baltic Sea and the Saaler Bodden. The National Park "Vorpommersche Boddenlandschaft" is situated in the region. Milelong sandy beaches, high bluffs, woods left in its natural state and open heathland offer a diversified recreation area. The Baltic Sea beaches at close range to Dierhagen and their excellent water quality provide much space for recreation, sports and water activities. The Bodden is a perfect surfing and sailing area. The beach is to be achieved within 5 minutes by walking through the woods.
Aankomst:
By car * from Hamburg: A 20 until motorway junction "Rostock", * go on onthe A 19 until exit "Rostock-Ost" * from Berlin: A 19 until exit "Rostock-Ost" * from exit "Rostock-Ost" continue on the B 105 in direction of "Ribnitz-Damgarten / Stralsund" * turn left in Altheide in direction of "Darß / Fischland" * go straight ahead until the traffic light in Dierhagen, then turn left * after going ca. 500 m you will find the OstseeCamp Dierhagen on the right side Notice: Do not turn left after passing Körkwitz but go ahead until the traffic lights, then turn left. By bus * until station of "Ribnitz - Damgarten / West" * continue by bus in direction of "Fischland - Darß" * exit at the stop "Dierhagen Kreuzung" * ca. 400 m on the right side = OstseeCamp Dierhagen By train * by bus in direction of "Fischland - Darß - Zingst" * until stop "Dierhagen Kreuzung" * ca. 400 m on the right side = OstseeCamp Dierhagen
Afmetingen
Oppervlakte: 6 ha brutto
Aantal plaatsen: 300


Jetzt Informationsmaterial downloaden