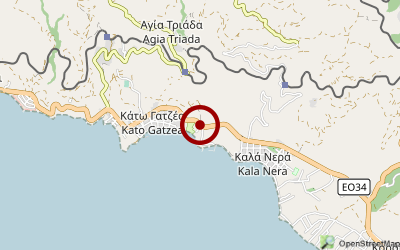 Geopend van - geopend tot: 15.März bis 10.November
Vergelijkende prijs: 30,00 Euro ( Preis pro Übernachtung für PKW, Wohnwagen und 2 Erwachsene und ein Kind in der Hauptsaison inkl. Nebenkosten )
Oproepen (afgelopen 30 dagen): 23
Beschrijving:
The family-run Camping Sikia is located right next to the seashore of the Pagasitic Gulf on the colourful green peninsula of the Pelion mountain.
Through many years of experience we have created a modern terraced campsite, which has kept its typical Greek character and also meets today's international standards.
Alongside the campground we offer hotel rooms and apartments that manage to balance the unique Pelion architecture with all the modern comforts.
Omgeving:
Sikia serves as a "home base" for trips and excursions to the villages of Pelion, to the exquisite beaches of the Pagasitic Gulf and the Aegean Sea, to the Sporades islands and also to the Meteora monasteries.
Aankomst:
Camping Sikia is located on the Northwest Pelion, between the villages of Kato Gatzea and Kala Nera, 18km away from the city of Volos, and can be reached by all means of transport.
Afmetingen
Oppervlakte: 3 ha brutto
Aantal plaatsen: 120